Home Page | Software | Support | Sales | Contact | About Us | News | Links | Czech

| Spanish

HelpTrans 1.01
script-based help processor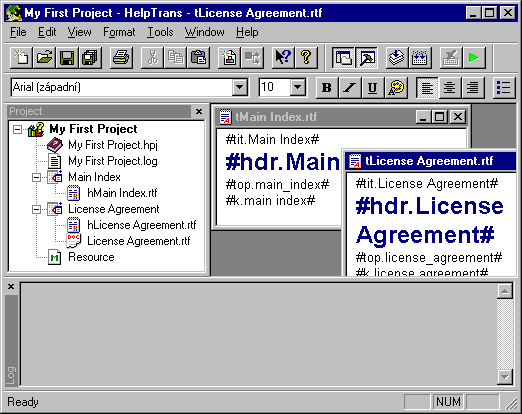 Features

| | |
| --- | --- |
| | flexible interface |
| | adjustable settings |
| | built-in RTF editor |
| | script-controlled |
| | multi-threaded processing |
| | help documentation |
| | free edition available |
---
Requirements: Windows 32bit, MS Help Workshop (included)
Using this application you can generate standard Windows help documentation (files with .HLP extension). You are able to create fully context sensitive help with jump links, popups, hotspot images and multi-hotspot images. It provides also library for displaying GIF animations, JPG pictures or blinking texts, standardly not supported by the help system. The help pages may be designed using built-in RTF editor, Windows WordPad or similar. The documentation is an alternative to the HTML pages (hyper-text) with full-text search capabilities, standardly supported by the help system. You can create manuals, product catalogs and finally, the help documentation for your applications. In addition, it includes a special tool for creating the documentation of functions and classes from your C++ source code! You can create the documentation for applications created using any development system. You'll find all necessary information in the program documentation, included applications and examples.
Documentation files are generated by the script engine from specially formatted templates, that are translated to the MS Help Workshop RTF. It uses special keywords to create links, popups and images in the pages and you can access all the features that the help system supports. You can use built-in RTF editor to format the source text and insert also RTF commands directly. The processing itself is executed by separated thread, so you can continue working if the compilation takes more time. The interface is fully adjustable and powered by docking windows, all settings are saved in the registry when the program exits. All necessary information is provided by fully context-sensitive help, which describes every part of the application.
Free Edition, Business Edition and Developer Edition are available under different conditions. Works with Microsoft® Help Workshop, which is included and must be present on your system before the instalation.
---
© 2004 Jakub Sika. All rights reserved.
Last modified: 14.10.2005 15:40